Being a lovely holiday weekend. I have several little friends! Mom and Dad went to the lake, which means Megan's in charge! Kyle's at our house, so I have 5 little friends in Mom's bed with me!!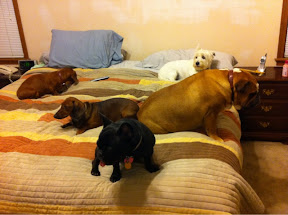 Yeah little room for me!
Also being a Holiday Weekend, means Aunt Megan is in Charge at my Brother's house too!
Evidently Aunt Megan coming over at 7:30am is unacceptable in Gracie's world!
But as usual they love when Aunt Megan's in charge!
So last night I agreed to go to City Market with Miss
Julia
! The plan was to be at her Mommy's house at 8:30. Around 8:25 I was trucking along when I here *pop* them *bmmrmmmb* I pull over to see welp I have a flat. Oh hell! I call Julia, she says okay I'll come find you.
Umm. So I guess it's a little
more
than a slight flat....I down right blew that tire! Once Julia the great arrived, wrestled the jack and the car was coming off the ground we noticed the massive hole! As my husband said when he say the tire in person, he was actually impressed at how giantantic of a hole I put in that bad boy. My response was to him. You know my motto is Go BIG or Go Home.... He informed me next time to go home! Bwahaha!
Thank Honda for the worlds smallest jack... We (As I say we... I mean Julia, I was in charge of pictures!) spent the most time slowly put surely jacking the car up!
One sign of a True Best friend..... When she's the most awesomest person EVER. Jacks your car up, Takes the flat off, puts the dounut on!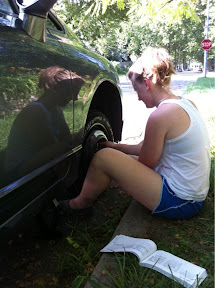 I may not have TONS of friends, but Mine will do ANYTHING for me!
Yeah if I were you..... I'd be jealous you don't have a best friend like I do! Julia is pretty much a Haus! Oh and go figure, when I pull in residential neighborhood I happen to park right in front of a house who had 2 pit bulls who were "supervising" us! You also wouldn't believe the amount of men that drove past us on bike and in cars.... And didn't stop to help us, it was down right baffling!
Another
sign your best friend rocks.... . As we pack the flat in the trunk and pack up our shit. She says "I'll drive your car over to my Moms to make sure it's ok, my keys are in my floor board" Yup she knows me well enough to know I was scared shitless to drive it after the horrid sound it was making earlier!
Arriving at Julia's Moms! Off to the market we go! I came home with Tomatoes, Blueberries, Peaches and Spices. I actually am jealous of Julia, she packed up on lots of veggies. I wish I liked Veggies to be daring and try new stuff!
Of course they had amazing fresh cut flower, if the line wasn't forever long I would of got some. But patients and me, don't always work out! Not only was there fresh cut flowers there were planted plants too!!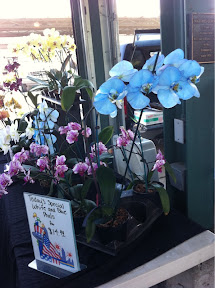 What a gorgeous BLUE orchid. On sale for $15 for 4th of July. If I wasn't a horrible Orchid mom, I would of got it. Maybe next time!
Once we arrive back at Julia's Mom's house 5 minutes later my husband shows up swaps me cars and takes it to get fixed!! Why yes Five for Friday is true! My car currently has a brand new tire, new donut, and washed! Ahh.
When I got back to Lees Summit I stopped at a new cupcake store that's been open for a month now and every time I go, they are closed. It's Called "In the Middle Cupcakes" of course all their cupcakes are filled with something. They are .50 cents less per cupcake than Smallcakes. But, really Smallcakes does so many promotions I really haven't paid much for any of the cupcakes I've gotten from them. I order 3 cupcakes...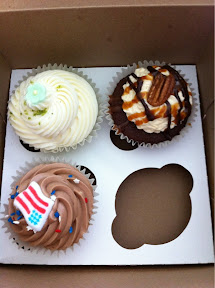 Key Lime, Turtle and Yummy Yellow!
They are currently still sitting on the kitchen table, yet to be tried!
Cuddly Aspect...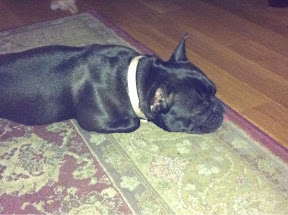 My exhausted "little black pup." I'm slightly scared for Monday, not completely sure how she'll react to fireworks!
Speaking of Monday, 4th of July!! It's Really hard to believe 12 years ago, early Morning we got a call from our good friends saying "Molly had her babies, Megan needs to come over and pick what she wants!" Mom wakes me up to tell me to get up we were going to Terry and Rex's house! I loved going there, they had Molly and Alex... Who were 2 miniature dachshunds! And Molly was pregnant with Babies and one of them was to be
MINE
!! Mom did tell me why we were going, we get there. I go in the house, see Alex ask where Molly was. I was told downstairs in the basement! I run downstairs to see Molly nursing 5 babies!!! Yay! Terry comes down asks me which one I want! I look at all the little babies, all still with their eyes closed. I had already known I wanted a girl.... I look at them and there was one little fiesty girl, who was getting pissed with everyone. She was biting at all the other babies! I looked at Terry and said
THAT ONE
!
Of course 12 years later she still is fiesty! Also seeing others with dachshunds, that are younger than Lacy. Lacy has aged awesomely!!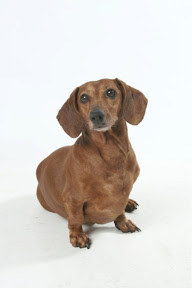 Momma's baby girl! I'm one proud mom! When she was so little, I would of never thought the day she would be 12. It scares the SHIT out of me, that Dachshunds Life Expectancy is 12-15 years. One reason I made sure that on our Wedding day Lacy was in a picture, and why we got professional pictures done of the dogs. Some one better have a full bottle of zanex on hand for me and lots and lots of cupcakes and ice cream for me if anything ever happens to my Baby girl!
Alright kiddos, the last 2 nights I've had a total of 8 hours of sleep. So it's nap time with the pups!
- Posted using BlogPress from my iPhone